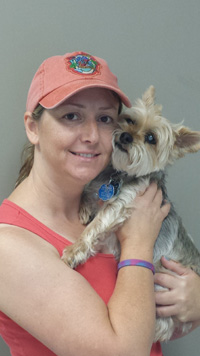 Wag Awhile had the wonderful opportunity to provide dog boarding and care for a Yorkie named Jake who is both diabetic and blind.  What a little cutie, I fell in love with him right away!
Jake required insulin twice a day.  As a registered veterinary technician, I was able to provide this service without any concerns.
Wag Awhile has several areas for dogs to play in but "little Jake" found my office to be his happy place for little naps in the dog bed beside my desk when he was taking a break from the other dogs in the play area.
Even though Jake is blind and cautious while making his way around, he still enjoys spending time with some new friends that he has made at Wag Awhile.  These new friends seem to be aware that Jake has a disability and are quite tolerant of him when he accidentally bumps into them.  One such friend is a Boston Terrier named Dexter who is shown in the picture below hanging out with Jake outside.
Come back anytime Jake!
Kaylyn